Why Sport Wheelchairs?
Very young children with disabilities are often left using their every day wheelchairs when engaging in sport and play. While this may be alright some of the time, it is very limiting. Every day chairs are just not made for moving around quickly and safely. The sport wheelchair provides a freedom for those with mobility impairments that may have kept them from actively participating in physical activities with their peers in the past. It provides able bodied children the opportunity to enjoy fun activities and gain a greater awareness of the challenges their friends face. This approach helps promote opportunities to engage parents of children with and without disabilities into a dialogue that raises the playing field for inclusion. Let's Play works to ensure that kids, parents, teachers and others will have tools to effectively deliver safe and fun programs. Ultimately, this will lead to a lifelong love of physical activity and ensure an enduring healthy lifestyle.
The Let's Play Sport Wheelchair
In order for an individual to experience meaningful success in physical activity, it is important that they use a lightweight sports wheelchair that is designed to maximize mobility while meeting individual needs in a gym or court surface. The Let's Play wheelchair has some unique advantages. The wheels have camber (angled outwards) to make turning easier and faster, a fifth wheel in the back to stop from falling backwards, high pressure tires built for speed, and a sturdy frame for taking on contact. They look cooler, move better and prepare a child for the future. In addition to this, the chair is built for smaller bodies and shorter arms.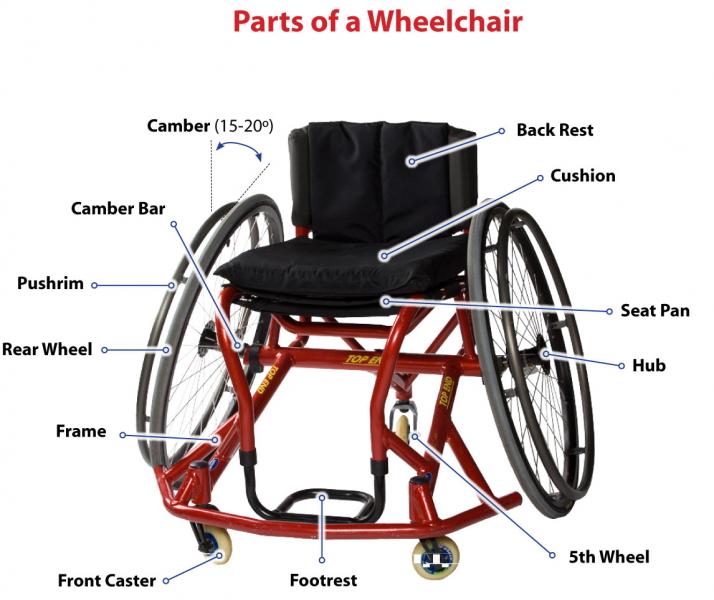 Sport whe
elchairs differ from everyday chairs in both their design and components that enhance your personal comfort and performance when engaging in physical activity. The
frame
of the sport chair is lightweight for easy mobility.
The front casters and the back 5th or 6th wheel use roller blade type wheels with high performance bearings. The 5th and 6th wheel are used to provide stability and balance when maneuvering the chair although it is important not to hit anyone from behind in this area.
The rear wheels range from 22, 24, 25, or 26 inches in diameter depending on the set-up of your chair, body size and personal preference. High pressure tubes and non-marking tires with little or no tread are generally used on sport wheelchairs.
An individual's feet must remain on the footrest or footplate at all times (no lifting the feet to stop or steer) and their bottom must remain in the seat at all times as well (no standing or lifting to gain an advantage).
The wheel camber is generally between 15 and 20 degrees. Increasing wheel camber angle provides greater side-to-side stability due to the increased width and angle of the wheelbase and also allows for quicker turning and greater access to the top of the pushrims.
The backrest can be set at various heights depending on the level of function the athlete possesses. The more support the back requires the higher the backrest will be. Those athletes who require a low backrest can generally sit higher in the chair than someone requiring more back support. The back upholstery is also adjustable and can be altered in order to provide support. An appropriate cushion is also important and the size, thickness and shape may vary according to each child's specific needs. An adjustable strap is also provided on all Let's Play sport wheelchairs. These should be used at all times and not removed from the wheelchair.